It should be fall now. The weather should be cooling down to being crisp and fresh. The leaves should be turning into shades of fire. I should be relishing cardigans and scarves and hot drinks to keep me warm.
But it's 100 degrees outside and 90 degrees inside since our house isn't blessed with air conditioning. The Santa Ana winds are being rude, blowing hot air into our faces and making our yards a mess with leaves and pine needles from every neighboring trees. Though we don't see drastic changes in seasons in Southern California, this heat wave is confusing all of us, including the trees which have blossomed once more in the warm weather.
I long for fall for all the things mentioned above, but this year I'm desiring the change of weather to kickstart a change in my life rhythms. Fall is when we stay in more, enjoying the warmth of home and one another. Fall is when we slow down, where coziness, comfort and a relaxed pace are high priorities. If summer has the beat of a marching band, fall would have the beat of slow jazz. But so far summer has marched its way into October, and busyness still reigns supreme in my heart and on my calendar.
It's become a way of life, especially with my daughter in school and with the holidays looming in the near future. (Thanks but no thanks for the reminders, Target.) The message is that busyness is good, and my planner with its to-do lists, appointments, coffee dates, and playdates reveals my belief in that message. Instead of slowing down, I'm ramping up in sync with the weather, and I'm realizing that if I want a change in life rhythms I will have to choose to make room.
***
A mentor gifted me PowerSheets at the beginning of this year so she and I could keep each other accountable in living out the intentional goals we set. Throughout the year you revisit those goals, plan out steps in order to accomplish them if you haven't already, and you choose a key word or phrase to help you remember. Each quarter, there's also a sheet that says, "In the coming months, remember…" and for the fall, I had written down, "It's ok to just be average in order to say yes to the things I'm called to in this season."
In other words, I can't volunteer for every single thing at my daughter's school. I can't always be home making dinner for the family. I can't be available to everyone who needs a coffee date or playdate because each yes I say has a cost. If I want to be faithful in the things I'm called to, and if I want to move when the Holy Spirit moves, I have to make room. And in order to do that, I have to create boundaries by saying no.
I'm saying no to:
Appointments made out of guilt
Feeling pressured to go to gatherings or events
Getting overwhelmed by the need to produce
Being someone I'm not to appease others
Being everyone's counselor, friend, and sometimes savior
Being the best or perfect in every role I play, every word I write, every relationship I maintain
Instead I'm saying yes to:
Writing more
Therapy
Learning new skills and taking the time to learn them
Enjoying things that give me life, like being alone and reading books
Sharing time with people who give me life
Nuclear family time (since we live with grandparents)
Not being productive and being ok with it
Surrounding myself with those who speak truth and love into my life
Saying no is hard when I want to be generous with myself and when I've struggled with setting boundaries all of my life. I feel badly and guilty when I have to say no, but nos are necessary in making room for life. When I have no boundaries, I get burnt out. I lose sight of my goals. I run on empty and lash out when I don't feel appreciated or taken care of. I'm not well.
When everything around me says I should keep up the pace, to add more, be more, do more, it's my choice to create room to be well, to breathe with space, and to be without being busy. I'm crossing my fingers that the weather will cool down, but I'm creating new rhythms whether fall decides to show up or not.
***
What are some things you need to say no to in order for you to make room for life-giving things?
---
Photo by Annie Spratt on Unsplash
Grace P. Cho
/
Posts
/
Blog
facebook
twitter
We'd love to keep you refreshed with our delicious thoughts on food & faith. Subscribe to have this community served to your inbox and grab our FREE Cookbook.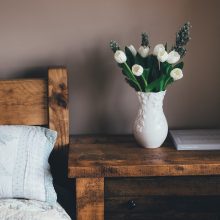 That Time I Thought I Was Generous
4 years ago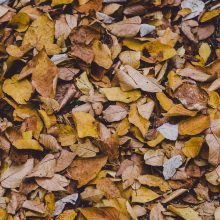 Saying No in Order to Make Room
4 years ago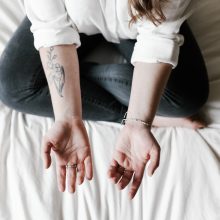 On Pride, Gluttony and Macaroni au Gratin
4 years ago